---
Welcome to the Thomas S. Monson Center, located in downtown Salt Lake City. This beautifully restored historic building, formerly known as the Wall Mansion, provides exceptional spaces for you to host your next event.
---
Rental Spaces
Whether you are planning a small corporate meeting, a departmental retreat or a special event, such as a wedding, a retirement party or a different celebration, the Monson Center has a variety of spaces to best suit your needs. Our unique spaces provide a lasting impression for your guests.
All of our rental spaces include use of the space, tables, chairs and set up. Audio visual equipment and linens are also available for an additional rental fee. The Monson Center staff will work closely with you to ensure your event is a success.
For information regarding event space rentals, availability, and pricing, please call (801) 213-8770.
Discounts available for University of Utah Departments, Governmental Agencies, and Non-Profit Organizations.
---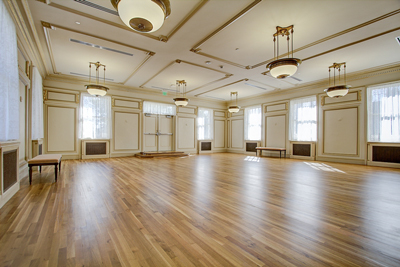 Ivory Ballroom
The elegant Ivory Ballroom is a perfect space to hold your wedding, a reception, a formal dinner or host a special speaker. Refurbished to resemble the original Wall ballroom from the early 1900s, the space truly is breathtaking.
Ivory Ballroom InformationMore Information
---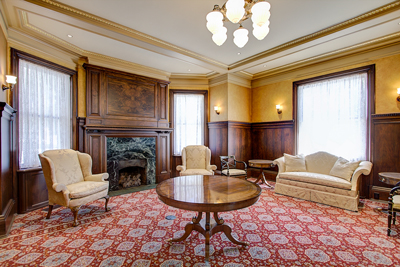 Eccles Room
The Eccles room provides a beautiful space to hold a small meeting or reception.
Eccles Room InformationMore Information
---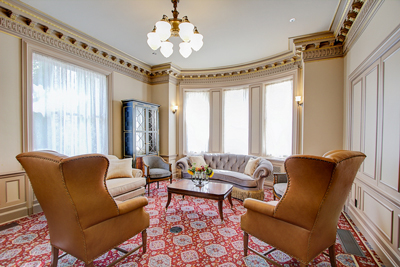 Sorenson Parlor
The Parlor provides a perfect space for a small conversational gathering
Sorenson Parlor InformationMore Information
---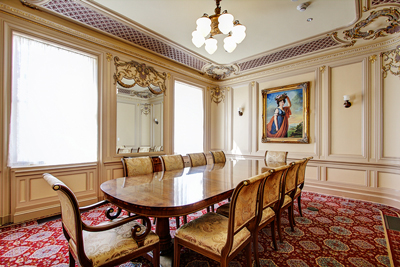 Sorenson Dining Room
This elegant dining room provides a perfect back drop for a breakfast, lunch or dinner meeting. Or a great way to escape for meal after hosting your meeting in the Eccles Room.
Sorenson Dining Room InformationMore Information
---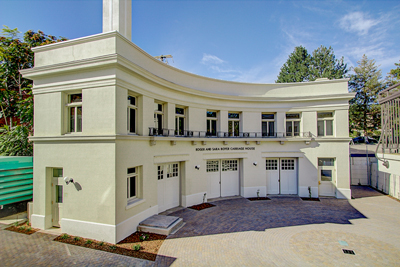 Boyer Carriage House
What was once an "Auto House", the Boyer Carriage House provides a unique space perfect for meetings, receptions, or small gatherings. The first floor carriage doors can be opened to the outside onto the Monson Center Plaza to create the perfect ambiance for your event. The second floor, overlooking the Plaza, can also be utilized for a small meeting.
Boyer Carriage House InformationMore Information
---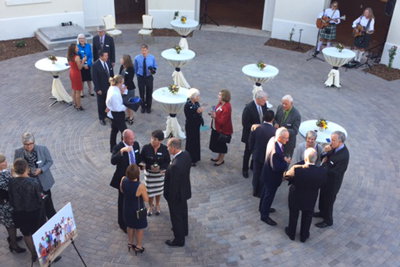 Monson Center Plaza
*Closed for the 2024 season*
Located outside of the Boyer Carriage House, the Plaza is a great space to set up a cocktail hour, a reception or host a fun party. Amphitheater stairs provide a great space to sit and mingle.
---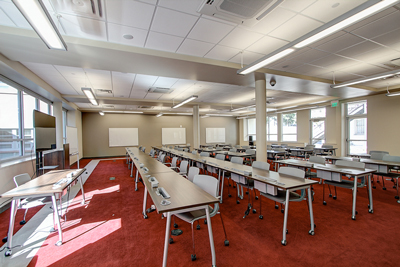 West Wing
The West Wing of the Thomas S. Monson Center provides two great spaces to hold your next corporate meeting, business lunch or training session. The Miller Town Hall is the largest of the two spaces and can accomodate approximately 100 in theatre style. Zions Bank Classroom A & B are perfect spaces for a small board meeting, a training or a breakout session. The Classrooms are divided by an air wall and can be rented together or separately.
West Wing InformationMORE INFORMATION